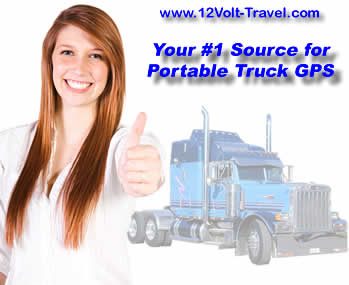 Advanced touch screen Truck Routing GPS for professional truck drivers, bus drivers, and RV'ers. Truck GPS units insure that routes will follow roads that are suitable for truck travel.
The commercial driver can rely on the routing as it takes into account commercial truck restrictions such as bridge heights and clearances, load limits, one-way road designations, left-hand and dangerous turn restrictions, and allowances.
For example, a typical set of restrictions for a semi-trailer could be entered as 13'6" height, 80,000 lb weight, 53' length, and 96" width.
Cut Fuel Costs
Cut Out of Route Miles
Reduce or Eliminate Violations
---
Rand McNally Truck GPS
Built from the ground up for professional drivers, the IntelliRoute® TND™ 500 & TND™ 700 incorporates input and hours of testing by real truckers.
Rand McNally Truck GPS
units help truckers in each phase of their work day from planning to driving to reporting. With 35% more truck routing information than other GPS units, the device leverages Rand McNally's proprietary truck data derived from more than 70 years in the commercial transportation industry.
Features of Rand McNally Truckers GPS Include:
Full U.S. and Canada maps
Trucker Business Tools
Access to updates and upgrades via the TND™ Dock
Searchable truck stop information from the Trucker's Friend® National Truck Stop Directory
Cobra GPS for Truck Drivers
Cobra electronics has set the standard for reliable driver solutions with more than 40 years of producing dependable, top quality products.
Cobra Truck GPS
units provide state of the art GPS technology with its award-winning trucker driver navigation line. Cobra's truck navigation products offer industry-leading features and one of the most user-friendly interfaces on the market in a compact, portable design. Cobra is dedicated to getting truck drivers from point A to point B faster, easier and more safely.
The 7750 Platinum is Cobra's most advanced GPS navigation for truckers & other professional drivers. The 7750 features enhanced graphics, Junction View with Lane Assist, a State Mileage Log, and an Hours-of- Service Log. In addition, it features the industry's best last-mile routing, offering superior road coverage on secondary highways.
Truck Drivers GPS Nav by Garmin
Garmin has been a major player in the portable GPS navigation industry for many years. Now from Garmin comes the Nuvi465T Truck Drivers Portable GPS Navigation.
The Truckers GPS
by Garmin provides truck specific routing based on a wide variety of truck specifications set by you - the truck driver. Once programmed the Garmin Nuvi465T Truck GPS will guide truckers from point a to point b avoiding areas that the truck should not travel based on the specification previously entered.