The CCF-T Mini-Fridge was specifically designed to fit inside the center console of F-Series Pickups (2015 - 2020) and Expedition (2018 + newer). This refrigerator can be easily installed in your qualifying vehicle within just an hour or so and requires virtually no technical experience. This is a real refrigerator produced by the mobile refrigeration experts at Dometic®.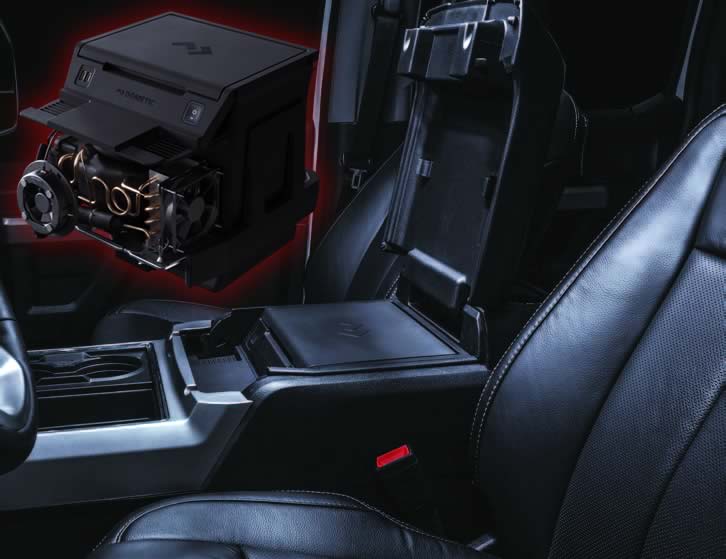 This mini-fridge has an storage capacity of up to 12 12oz cans or 6 20oz plastic bottles. A perfect size for drinks for the crew or a meal and drinks for two!
Main features include super low power consumption of just 54 watts to 68 watts on start up. Low voltage protection with automatic shut-down. A fully integrated sleek factory like finish. Illuminated front panel with power on/off button and two USB charging ports.
The internal temperature is steadily maintained at 32°F - 41°F (0°C - 5°C). There is no user controllable thermostat.
There are no wires to run as this fridge plugs into the existing 12 volt power port inside of your center console.
The Dometic® CCF-T is Backed by a 2-Year warranty so you can rest assured this is a high quality, low noise, high performance portable refrigeration unit perfectly suited for your work, sport or luxury truck.
You will also enjoy the built-in battery protection. When the onboard circuitry detects the vehicle battery level has dropped to 12 volts or less the power is automatically shut off to the refrigerator. This is an awesome feature for folks on the go.
This center console mini-fridge is brand new in November 2020. Imagine being the first kid on your block to come home with a fridge in the center console of your Expedition or F-Series Pickup!
Learn more or buy now >> CCF-T F-Series Refrigerator
F-150 (2015 - 2020)
F-250 (2015 - 2020)
F-350 (2015 - 2020)
Expedition (2018 - 2020)