No matter what size TV you're looking for, when it comes time to buy a new TV for your motorhome (RV) or travel trailer there are a few key points you should keep in mind and we will cover them here.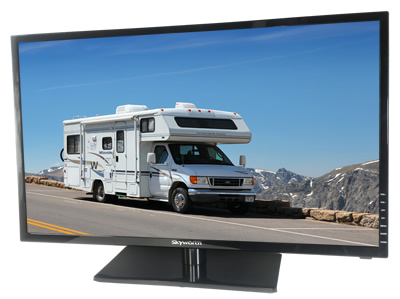 Most factory installed TV's are of the 110V AC variety and typically consume a lot of power. For driver safety purposes these TV's normally only function when the vehicle's engine is not running. This is achieved by using an automatic power switch installed by the factory. While it is recommended that you leave this functionality as is for the front ("dog house") TV, it is not necessary to also have the living space, dining space and bedroom TV's function this way. No matter your preference, switching from the standard AC powered TV to a 12 volt TV is not only a quick and easy way around the 110V AC automatic power switch, but also has other added benefits.
Standard AC powered TV's vs. 12 Volt Powered TV's:
If you don't mind the TV being unusable while the vehicle is driving and you don't mind the extra power consumption then your TV options are basically limited only by your budget. On the other hand if your passengers would like to watch TV while traveling, or you are trying to conserve stored power you should absolutely be considering a 12 volt TV.
Built-in or External DVD Player:
There are many TV's these days which include a built-in DVD player, but people sometimes shy away from these as they wish to use the stand-alone DVD player already in the camper. Purchasing one of these TV's doesn't mean that you can't use the stand-alone DVD player. You can still use the external player by connecting to the new TV just the same as it was connected to the old TV. Having a built-in DVD player simply gives you a backup option in case the external player bites the dust while you're out on the road.
The Built-in DVD Player:
When considering a TV DVD combo you should keep in mind that the DVD will load and eject on the side of the TV parallel to the screen. Since TV's are now LCD flat screens there is no room for the DVD player to receive a DVD from the front of the TV. That being the case you must make sure that you'll have room to access the DVD player once the TV is wall mounted if you choose to do so. The vast majority of built-in DVD players will be located on the right hand side of the TV when looking at the screen. Very few are located on the left.
Wall Mounting TV's:
All newer flat screen TV's can be wall mounted if so desired. Many TV's of similar size use the same wall-mount hole patterns. So what does this mean for you? Well if you already have a 19" TV in your RV and wanted to install a new 15" TV, 22" TV or even a 24" TV it's highly likely that the existing wall-mount will match up perfectly with the new TV.
How Cold is Too Cold:
While extreme cold typically has little or no affect on the LCD screen or any other internal components in the TV it is recommended to store the unit above -40 degrees fahrenheit. Depending on the geographic location where the RV will be stored when not being used for camping TV's may experience a wide range of temperatures.

So how does the cold affect your TV? While the cold itself doesn't do any damage to the TV cold internal circuits will collect condensation as the TV begins to warm up. To prevent this from happening just make sure that the TV is at a comfortable room temperature for several hours before turning it on.
Other cold weather considerations:
There are a couple of TV manufacturers that gel-coat the circuit boards which help to protect against oxidation and corrosion. This gel-coating also helps prevent damage from powering the TV on while there is moisture from extreme temperature changes. If this sounds like something you'd be interested in look for Jensen or Majestic brand televisions.
Volume Loudness:
Most folks seem to be pleased with the loudness, but that doesn't mean that you will agree. From our testing here it is seems most of our portable TV's have clean clear sound at a reasonable max level. We do our best to weed out the makes and models which don't make the cut.
Bumps In The Road:
The DVD player in most of our RV TV's are mounted with soft rubber bushings inside of the TV. The DVD reading technology also takes advantage of oversampling (reading ahead) for to compensate for bumps and vibrations. Though if bumping and vibration are constant over a period greater than 10 seconds you may encounter skipping.
Finding the Best 12 Volt TV for Your RV:
You will always find a great selection of TV's at 12Volt-Travel®. We don't just sell TV's for RV's and we aren't an affiliate sending you off to some random website. We are passionate, well experienced, trusted and authorized resellers of every TV brand that we offer. Click 12 Volt TV's now to shop our wide selection of Jensen, Majestic, Naxa, Skyworth and Supersonic TV's. Orders are handled by our knowledgeable staff. You never have to pay extra for fast processing and your new TV will arrive quickly. We deliver to most U.S.A locations in just two to three business days. So don't wait any longer - find your new TV now!