Benefits of Having 12 Volt Fans for your Vehicle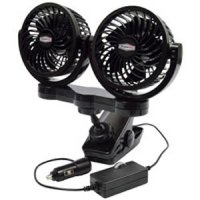 Have you ever felt hot and crowded in your car when your AC is just not working? How about your truck on long hauls? If you have felt sweaty and hot at some point in your vehicle, 12 volt fans are your ideal companion, either on long hauls or road trips in the car or camper. But how exactly do they help you out during tough times or in emergencies?

Highly Convenient 12 Volt Fans
When you get a 12 Volt fan for your truck or camper or even your car, you can just plug it in to your lighter socket to give you unmatched cooling when your car or truck fan gives way. It keeps the air in circulation without using up your battery.

Most of the 12 Volt fans draw very little power from your battery, so you have less to worry about in terms of your vehicle's battery dying down. 12 Volt fans are highly portable and allow you to have unmatched comfort on camping trips. If things really start to go south because it starts raining, you can take shelter in your RV. You'll stay cool and dry with a 12 Volt fan by your side in your RV. Some models even have spring loaded clips to help mount on your vehicle's dashboard, sunvisor, door handle and more.

A 12 Volt Fan Useful in Tough Times
Other than its use at a picnic, there are often times that 12 Volt fans can come in handy. Your company vehicle's ac might be due for a service and you need to go on that long haul delivery trip. A 12 Volt fan will keep you calm and cool throughout that trip. You need not go anywhere else to keep comfort by your side, just visit our website to buy your 12 Volt fan now.
Some portable 12 volt fans can even be powered using D-Cell batteries which makes them perfect even for tent camping, picnics and tailgating. Don't let the heat get you down. Plug in and cool off quickly with a fan that's powered by the lighter socket in any vehicle!