12Volt-Travel® Blog Home Page
Details

Category: Handy Products
Looking for a great way to keep food, drinks, or even life saving medications cool while traveling without the constant requirement of hauling along tons of store bought ice or cold packs? There is one very affordable and convenient solution that you may not be aware of.
Details

Category: Companies
Formed in 1973 as a result of global trade and economic issues, the Owner-Operator Independent Drivers Association (OOIDA) is the international trade association that represents the interests of independent owner-operators and professional drivers on all matters that affect truckers. In the early 1970s the Arab oil embargoes shut down the trucking industry and nearly crippled the nation. Seeing a need for change, OOIDA's founding members, including current president Jim Johnston, traveled to Washington, DC to present lawmakers with the problems in the trucking industry. Topping the list of issues were fuel pricing and availability.
Details

Category: 12 Volt Televisions
We all know that 12 Volt TV's are far superior to standard TV's, but the key is in knowing who will benefit most from making the switch to a 12 Volt TV.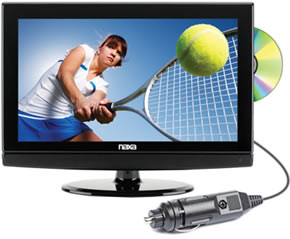 When you're at home with 110V AC power being piped in from the power grid you would definitely be using a regular home power TV. However, when the power goes out so will that standard TV. Many people will resort to using a power inverter to run their TV. All too often truck drivers and RV owners also fall into the power inverter trap.
Details

Category: 12 Volt Televisions
Choosing a new TV for your motorhome can be a daunting task; it can also be quite enjoyable once you know what you're looking for. Of course you're looking for the absolute best TV for your motorhome, but what does that really mean? When helping our customers select a new TV for their motorhome we look at several factors which help us make the best decision. Some key factors include:
Details

Category: Tips & Resources
When speaking of portable 12-volt powered refrigeration, the words "cooler" and "refrigerator" seem to be used synonymously when in fact they are quite different. So what are the differences between 12-volt coolers and 12-volt refrigerators, and which one is best for your needs?
Details

Category: Bluetooth
Bluetooth Headsets don't just keep drivers safe they also keep drivers from getting ticketed by police. Most professional drivers already know that talking on a cellphone while driving is now illegal. What's surprising though is that some drivers still do it. Talking on your cellphone while driving a semi-truck can
Details

Category: Power Inverters
Many people wonder how to power a TV with a car battery. It's actually easier than you may think. Powering your home TV from the 12-volt lighter socket in your car, truck or RV is possible. Since the home TV uses AC (alternating current) power and the vehicle produces DC (direct current) power which is stored in the battery, a power inverter is required to produce the type of power used by your television.

Don't worry, we're about to eliminate all of the guess-work of deciding which is the best power inverter for your car.