When installing DC powered appliances and accessories it's important to use the proper size wire. The size of wire required for a given task depends on the voltage being used, the amount of amps required and also the distance that power is being transmitted. Don't worry, calculating the wire size is made easy with the wire size guides below. We have a chart for 12-volt, 24-volt, 36-volt, 48-volt and 72-volt applications. Wire size by gauge, ampers draw and maximum feet of wire.
As in most electrical situations it is important that you know the maximum amp draw of the device being installed. You will also need to know that your power supply (e.g. alternator, battery, etc.) can produce more power than the amount being consumed by the DC device.
This guide shows how to view the below listed amp, gauge and wire feet charts.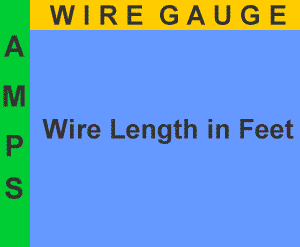 12-Volt Wire Size Guide
| | | | | | | | | |
| --- | --- | --- | --- | --- | --- | --- | --- | --- |
| AMPS | 14 ga. | 12 ga. | 10 ga. | 8 ga. | 6 ga. | 4 ga. | 2 ga. | 1/0 ga. |
| 1 | 45 | 70 | 115 | 180 | 290 | 456 | 720 | |
| 2 | 22.5 | 35 | 57.5 | 90 | 145 | 228 | 360 | 580 |
| 4 | 10 | 17.5 | 27.5 | 45 | 72.5 | 114 | 180 | 290 |
| 6 | 7.5 | 12 | 17.5 | 30 | 47.5 | 75 | 120 | 193 |
| 8 | 5.5 | 8.5 | 15 | 22.5 | 35.5 | 57 | 90 | 145 |
| 10 | 4.5 | 7 | 12 | 18 | 28.5 | 45.5 | 72.5 | 115 |
| 15 | 3 | 4.5 | 7 | 12 | 19 | 30 | 48 | 76.5 |
| 20 | 2 | 3.5 | 5.5 | 9 | 14.5 | 22.5 | 36 | 57.5 |
| 25 | 1.8 | 2.8 | 4.5 | 7 | 11.5 | 18 | 29 | 46 |
| 30 | 1.5 | 2.4 | 3.5 | 6 | 9.5 | 15 | 24 | 38.5 |
| 40 | | | 2.8 | 4.5 | 7.0 | 6.5 | 18 | 29 |
| 50 | | | 2.3 | 3.6 | 5.5 | 9 | 14.5 | 23 |
24-Volt Wire Size Guide
| | | | | | | | | |
| --- | --- | --- | --- | --- | --- | --- | --- | --- |
| AMPS | 14 ga. | 12 ga. | 10 ga. | 8 ga. | 6 ga. | 4 ga. | 2 ga. | 1/0 ga. |
| 1 | 90 | 140 | 230 | 360 | 580 | 912 | 1440 | |
| 2 | 45 | 70 | 115 | 180 | 290 | 456 | 720 | 1160 |
| 4 | 20 | 35 | 55 | 90 | 145 | 228 | 360 | 580 |
| 6 | 15 | 24 | 35 | 60 | 95 | 150 | 240 | 386 |
| 8 | 11 | 17 | 30 | 45 | 71 | 114 | 180 | 290 |
| 10 | 9 | 14 | 24 | 36 | 57 | 91 | 145 | 230 |
| 15 | 6 | 9 | 14 | 24 | 38 | 60 | 96 | 153 |
| 20 | 4 | 7 | 11 | 18 | 29 | 45 | 72 | 115 |
| 25 | 3.6 | 5.6 | 9 | 14 | 23 | 36 | 58 | 92 |
| 30 | 3 | 4.8 | 7 | 12 | 19 | 30 | 48 | 77 |
| 40 | | | 5.6 | 9 | 14 | 23 | 36 | 58 |
| 50 | | | 4.6 | 7.2 | 11 | 18 | 29 | 46 |
36-Volt Wire Size Guide
| | | | | | | | | |
| --- | --- | --- | --- | --- | --- | --- | --- | --- |
| AMPS | 14 ga. | 12 ga. | 10 ga. | 8 ga. | 6 ga. | 4 ga. | 2 ga. | 1/0 ga. |
| 1 | 135 | 210 | 345 | 540 | 870 | 1368 | 2160 | |
| 2 | 67.5 | 105 | 172.5 | 270 | 435 | 684 | 1080 | 1740 |
| 4 | 30 | 52.5 | 82.5 | 135 | 217.5 | 342 | 540 | 1160 |
| 6 | 22.5 | 36 | 52.5 | 90 | 142.5 | 225 | 360 | 579 |
| 8 | 16.5 | 25.5 | 45 | 67.5 | 106.5 | 171 | 270 | 435 |
| 10 | 13.5 | 21 | 36 | 54 | 85.5 | 136.5 | 217.5 | 345 |
| 15 | 9 | 13.5 | 21 | 36 | 57 | 90 | 144 | 229.5 |
| 20 | 6 | 14 | 16.5 | 27 | 43.5 | 67.5 | 108 | 172.5 |
| 25 | 7.2 | 11.2 | 18 | 28 | 46 | 72 | 116 | 184 |
| 30 | 4.5 | 7.2 | 10.5 | 18 | 28.5 | 45 | 72 | 115.5 |
| 40 | | | 11.2 | 18 | 28 | 46 | 72 | 116 |
| 50 | | | 9.2 | 14.4 | 22 | 36 | 58 | 92 |
48-Volt Wire Size Guide
| | | | | | | | | |
| --- | --- | --- | --- | --- | --- | --- | --- | --- |
| AMPS | 14 ga. | 12 ga. | 10 ga. | 8 ga. | 6 ga. | 4 ga. | 2 ga. | 1/0 ga. |
| 1 | 180 | 280 | 460 | 720 | 1160 | 1824 | 2880 | |
| 2 | 90 | 140 | 230 | 360 | 580 | 912 | 1440 | 2320 |
| 4 | 40 | 70 | 110 | 180 | 290 | 456 | 720 | 1160 |
| 6 | 30 | 48 | 70 | 120 | 190 | 300 | 480 | 772 |
| 8 | 22 | 34 | 60 | 90 | 142 | 228 | 360 | 580 |
| 10 | 18 | 28 | 48 | 72 | 114 | 182 | 290 | 460 |
| 15 | 12 | 18 | 28 | 48 | 76 | 120 | 192 | 306 |
| 20 | 8 | 14 | 22 | 36 | 58 | 90 | 144 | 230 |
| 25 | 7.2 | 11.2 | 18 | 28 | 46 | 72 | 116 | 184 |
| 30 | 6 | 9.6 | 14 | 24 | 38 | 60 | 96 | 154 |
| 40 | | | 11.2 | 18 | 28 | 46 | 72 | 116 |
| 50 | | | 9.2 | 14.4 | 22 | 36 | 58 | 92 |
72-Volt Wire Size Guide
| | | | | | | | | |
| --- | --- | --- | --- | --- | --- | --- | --- | --- |
| AMPS | 14 ga. | 12 ga. | 10 ga. | 8 ga. | 6 ga. | 4 ga. | 2 ga. | 1/0 ga. |
| 1 | 270 | 420 | 690 | 1080 | 1740 | 2736 | 4320 | |
| 2 | 135 | 210 | 345 | 360 | 580 | 912 | 1440 | 3480 |
| 4 | 60 | 105 | 165 | 270 | 426 | 684 | 1080 | 1740 |
| 6 | 45 | 72 | 105 | 180 | 285 | 450 | 720 | 1158 |
| 8 | 33 | 51 | 90 | 135 | 213 | 342 | 540 | 870 |
| 10 | 27 | 42 | 72 | 108 | 171 | 217 | 435 | 690 |
| 15 | 18 | 27 | 42 | 72 | 114 | 180 | 288 | 489 |
| 20 | 12 | 21 | 33 | 54 | 87 | 135 | 216 | 345 |
| 25 | 10.8 | 16.8 | 27 | 42 | 69 | 108 | 174 | 276 |
| 30 | 9 | 14.4 | 21 | 36 | 57 | 90 | 144 | 231 |
| 40 | | | 16.8 | 27 | 42 | 69 | 108 | 174 |
| 50 | | | 13.8 | 21.6 | 33 | 54 | 87 | 138 |