Locking Diesel Fuel Caps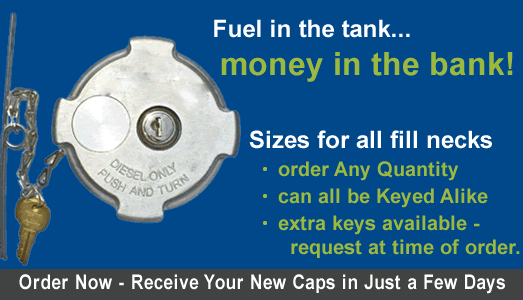 Keep more of your money! Every fill-up is an investment, protect it! Filling your tanks is expensive. For a fraction of that cost you can ensure that only your drivers will have access to your fuel.

Transitioning from standard to new locking fuel caps couldn't be easier. Simply unscrew the old caps and replace with the new locking caps. Just make sure to give your driver a key. (lost keys)
Don't wait any longer. Shop for locking fuel caps now!
Our locking caps are clearly marked "Diesel Only".

We offer these locking caps, 4" Threaded Necks FTAC04 | Freightliner 1/4 Turn Non-Threaded Necks FTAC93 | Freightliner M2 FTAC13 | Kenworth FTAC97 | Peterbilt FTAC67P | Reefer - International MD - Ford 650/750 FTAC02 | Volvo Low Sulfur FTAC76 | Volvo - Mack - International FTAC69
---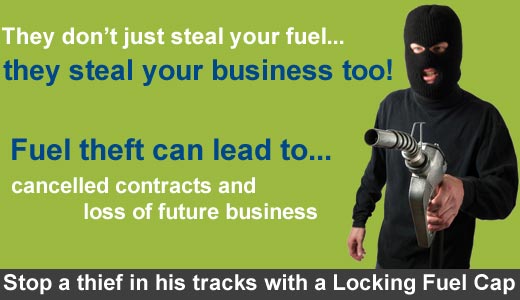 Fuel theft itself seems to have become an occupation.
Your job is to keep the fuel in your tanks.

Somewhere, a fuel theft is happening right now. These guys are slick, they need to be. They know if you find out their supply of free diesel fuel will be cut-off for good.

See, most of these crooks take just a little off the top a few times per week and remain unnoticed over long periods of time.
In some cases this off-the-top technique is seen by the bookkeeper as poor mileage. Then, there's the other guys who go for the big hit, they'll take a hundred or so gallons in one shot. This tactic is normally reserved for those long-haul truckers who are just passing through, as soon as they re-fuel of course.


Customer Service and Sales 1-888-412-8058
Call Monday-Friday 9AM-5PM est.