Fit My Truck Stereo and Wire Harness
Finally time to replace that old stereo in your Semi-Truck? We have just what you need!

Select your make, model and year for a list of wire harnesses that will fit your truck. Our stereo wire harnesses are specially made for big rigs and work with their corresponding stereo type.
Shallow Mount Heavy Duty AM/FM/WB with Front USB, Front 3.5mm, Rear 3.5mm, SiriusXM and Bluetooth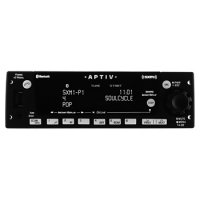 The new Aptiv Shallow Mount Heavy Duty Truck and Tractor Stereo includes AM/FM and Weather band broadcast. It includes a built-in SiriusXM satellite...
Only: $259.95
Sale: $252.15
Bluetooth AM/FM CD Player with 3.5mm Aux and USB front Inputs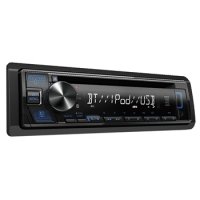 Go Hands-Free with ProAudio! This awesome looking new radio will plug directly into many newer trucks. You may use our Fit My Truck system to...
Only: $169.95
Sale: $164.85
Type D
AM/FM CD Player with 3.5mm Aux and USB Includes Remote Control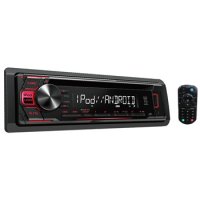 Many Great Features at a very low price and the sleek look makes this stereo a very popular choice in aftermarket radios for semis.
Front USB Input
Front 3.5mm Input
Red and White Display
Only: $148.95
Sale: $144.48
Type D
Your installation is probably going to begin with the removal of the original stereo. Most times you'll be dealing with a factory installed stereo, most of which don't use "trim rings". For stereos without a "trim ring" surrounding the stereo face you should be able to see openings on the sides of the stereo where you may insert a tool to remove the unit.

When you receive your new Semi-Truck stereo the removal tools will be included. These will remove most factory installed Semi-Truck stereos, in other cases you'll have to improvise. If your stereo has a "trim ring" simply remove the ring to see the removal tool openings.

Once the old stereo has been completely disconnected, plug the new harness and antenna adapter (if required) into your Semi-Truck. At this point, you should be able to plug the stereo end of the harness and the antenna cable into the stereo.

Since your new stereo will most likely lock into the existing "stereo cage" there's no need to change that right away. Let's first test functionality!

Go ahead and slide the stereo into the "stereo cage" (be careful of the wiring). You should hear a click or two as the spring locks of the stereo find their place in the "stereo cage". Once the stereo is secure and the key is on if need be, attempt to power on the stereo.

Once you verify that everything is working as you had expected, power down the radio and turn off the key if need be. Gently attempt to pull the stereo the cage. If it doesn't want to come out easily you should insert the removal tools to verify that the stereo releases properly from the cage. This is just to make sure that the stereo is truly locked in and not just wedged. For this install to be safe going down the road the stereo must lock into the "stereo cage".

If the stereo pulls out easily without using the removal tools you will need to use the "stereo cage" that came with your new Semi-Truck stereo. Carefully remove the old "stereo cage" (usually just unfold some thin metal tabs) and insert the new "stereo cage". Once the new cage is in place you'll secure it using a small flat head screwdriver or an allen wrench (5mm allens work the best) to fold in the tabs.

Verify that the stereo locks into the "stereo cage" now and you're in business!
No Harness Required when you install one of our "Type D" stereos in any of the trucks listed below.

Also, if you have one of the rigs mentioned below, this means you have an ISO connector in your truck. If you plan to install an aftermarket stereo such as Alpine, Jensen or Pioneer etc. you can use this wire-harness.

Conv w/Prem Sound from 4/05
Model 387 from 9/06
Model 387 w/Prem Sound from 9/06




All Models w/Monsoon System


Medium Duty from 8/04
Pro Star - All
Some International Model Series 4000, 7000 and 8000 Built Between Sept 2002 through 2007 have a small white 12-pin or 16-pin connector on the instrument panel harness. This connector can be converted to the current standard ISO-DIN connector using these harness'. Converting to the ISO-DIN style plug will allow you to install any of our Type D stereos.
12-Pin Use Harness
PP202147
16-Pin Use Harness
PP202148
Can I retain use of the sleeper control?

Only Type "D" Stereos have the ability to work with steering wheel and sleeper controls. If your truck has steering wheel and or sleeper controls and you wish to keep their functionality you will need to use Type "D" Stereo.
I already have a satellite radio subscription for my portable satellite radio receiver, can I have my subscription play on new truck stereo with satellite tuner built-in?

Yes. You'll need to call your provider and switch devices by providing them (Sirius/XM) the new stereo serial number. They'll activate your subscription on your new stereo and deactivate the portable unit. If you would like to keep the portable receiver active for use in your car, adding a second device to your subscription is normally just a small additional fee but your provider will be able to tell you more about that.
Will the external antenna from my portable satellite receiver plug it into the new Panasonic or Delphi stereo?

Sometimes this will work, but most times you'll need one of our satellite radio antennas made for our truck model stereos.
The factory stereo I'm replacing already has satellite radio built-in and working. Will the satellite antenna from that stereo work with my new satellite stereo I'm buying from you?

In most cases the original satellite antenna will plug into a new Delphi or Panasonic with Sirius or XM tuner.
My truck has GPS audio going into the stereo and it came that way from the factory. Will it still work if I replace the stereo?

In most cases when you're replacing a Delphi or Panasonic with another Delphi or Panasonic that has rear audio inputs it will work. These inputs don't change much so it's easier for you to upgrade!
Can I use my Bluetooth headset with a Semi Truck Delphi or Panasonic Bluetooth stereo?

No that would be an unnecessary connection. The Bluetooth stereo takes the place of the headset.
I purchased a stereo but it didn't come with a harness, is it missing from the box?

No it's not missing as these semi truck stereos do not include a harness. If the stereo you're purchasing doesn't plug directly into your truck you'll need to purchase separately the appropriate harness for your truck and new stereo combination.
Can I use an "aftermarket" stereo in my truck like as Jensen, Pioneer or some other?

While we do recommend using one of the Delphi or Panasonic stereos listed here, just about any single DIN stereo will work when used with a wire harness made for your truck. Our wire harnesses are pre-wired for Delphi and Panasonic stereos.

To use one of the wire harnesses that appear for your truck to install a Pioneer or other stereo in your semi-truck simply remove the end that plugs into the Delphi or Panasonic. This now bare end will need re-wired to your Pioneer or other aftermarket stereo harness. This is really a simple process and in most cases the wire harnesses are color coded by industry standards to eliminate any guess-work.
Customer Service and Sales 1-888-412-8058
Call Monday-Friday 9AM-5PM est.