About Engel Refrigerators & Freezers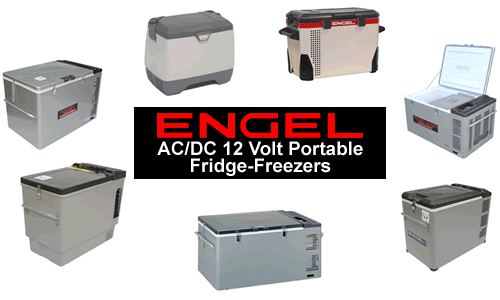 Engel - An international brand and world leader in portable 12 Volt compressor and refrigeration technology.
The Engel name is world renown for reliability in 12 Volt refrigeration. The Engel 'swing' compressor is internationally patented and is considered the most reliable compressor on the market today - it only has one moving part! To date, over 3.6 million units have been sold worldwide.
Light weight, and offering low power consumption, the new Engel models offer convenient, transportable freezers/refrigerators that run off 12 volts. They can be used in airplanes, cars, trucks and small boats - basically anywhere close to a 12 volt power source (including wind generators and solar panels).
A combination of performance, durability, lower power consumption and consistent reliability has made Engel the world's premier brand of mobile refrigeration.
Engel's are now found through out the world - in every ocean and on every continent. In fact, over 100,000 are sold world wide per year! Whether you are a hard-core fisherman, weekend Bass fisherman or simply a leisure sailor - Engel should be by your side. Engel has proven reliable in the tough in the deserts of Southern Africa and Australia.
They can be used in a car, RV, truck, boat, plane or remote cabin. Basically anywhere close to a 12Volt power source - even wind generators and solar panels! Why spend well over $1,000 for a built in refrigerator, when for less than half the price you get mobility.
Engel is also used by professional Emergency Response teams to keep life saving drugs cool or IV fluids warm, as well as field biologists and researchers for quick freezing field samples.
If you are looking for multi-function use, and mobility - consider Engel, the worlds leader.
We do have competitors out there! Although not many in Africa and Australia, where it really counts...here Engel fridge-freezers dominate the markets.
Our competitors technology is basically grouped into two types:
1. Thermoelectric Refrigeration
Thermoelectric (TE) coolers work electronically without the use of freon, compressors or evaporators. In a thermoelectric cooler, direct current is applied to a semiconductor which makes one side of it hot, and one side cold (which is known as the Peltier effect). They can heat or cool.
Negatives
The result is mediocre cooling at best - In fact most customers are greatly disappointed with its performance. Thermoelectric units draw over 6x the current (4.6 - 5.4 Amps) of an Engel compressor (in refrigerator mode), and within 6 hours can drain a car battery - which is not great if you only have one battery!

In addition Thermoelectric coolers can only cool to about 30 degrees below ambient. They cannot freeze, or maintain a steady internal refrigerated temperature. Consequently they take many hours to cool a warm soda for example. In contrast our Engel models can all cool to refrigerator temperatures in less than 20 minutes. In freezer mode they can get below freezing in about 1/2 hour.

Thermoelectric coolers can also not keep a steady internal temperature. All Engel models have internal thermostats and can cycle on and off maintaining steady internal temperatures - independent of the outside temperature.

Thermo-electric units are also more noisy than Engel freezers - they typically produce 50-60 decibels where an Engel is less than 40 decibels.
Positives
They are very cheap to purchase - typically less than $100.
2. Reciprocating compressors
Our competitors are forced to use these types of compressors. Most are in fact made in China - but some are still made in Germany (Danfoss).
Negatives
Reciprocating compressors have many moving parts - much more to go wrong - and at $65+/hour for service - be careful.

Also, they cannot take the shock and vibrations that Engel compressors can take - especially when running! Our Engel units are built to tolerate high vibration environments such as the cab of a large truck or power boat. This vibration tolerance makes Engel compressors much more suitable for boating, 4X4, or similar activities where shock and vibration exist.

Reliability has always been a problem for reciprocating compressors - especially in moving vehicles - due to vibration intolerance.

Reciprocating compressor's initial startup amperage surge is 2.6 times higher than Engel - click here for some hard data. They often require your vehicle's electrical system to be re-wired to overcome the high startup Amperage requirement - which is costly. Also, they cannot tolerate a voltage drop in DC current - Engel can.

They are often much more expensive.

Engel freezers draw about 50% less power than similar Waeco models - as tested by Powerboat Report magazine (April 2007). In fact Engel came out as their 'best pick' out of 4 models tested.

Many competitors claim to be freezers but in fact they only freeze to about 18 degrees F - which is not safe for frozen foods. Engel models can freeze to zero degrees F or colder.

The reciprocating compressor systems make a lot of electronic noise (EMI) on high-frequency radios, like ham, marine, shortwave, and it's difficult (sometimes impossible) to suppress. They also run at a higher temperatures and require larger cooling fans.

Some manufacturers temperature claims are very mis-leading - they measure lowest temperature on the cold plate surface and not in the middle of the unit - as we do for all Engel models. So, if you choose to buy a competitor - do so on a 30 day trial and check the power draw and interior coldest temperature to make sure it performs as per their specifications - if not, then return it.

With over 3.6 million units sold to date - we do know what we are doing!
Customer Service and Sales 1-888-412-8058
Call Monday-Friday 9AM-5PM est.