12 Volt TV's
12 Volt TVs
Looking for a great television that runs on either 12V DC or 110V AC power?

Whether you buy a new TV for your bus, boat, coach, truck, RV or off-grid home - We have a model to fit your application. Click 12 Volt TVs to browse our huge selection.

If you need help knowing which of our TV's might be right for you, give us a call.

Long gone are the days of clunky, low performance power hungry ac/dc tv sets.

Install Quality
All of our 12 Volt TV's are built for your life on the road or off the grid.
12 Volt TV with Digital Tuner
All of our TV's feature the new Digital TV Tuner with HD. This will help tune-in to local sports, weather and TV series.

All 12Volt TV's require a TV antenna to receive over the air programs and while a digital TV antenna works best, an old set of rabbit ears will still do the trick (just not for HD).

All of our TV antennas will work with all of our TVs.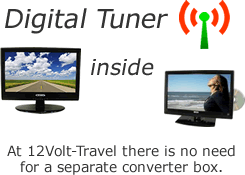 12 Volt TV DVD Combo
Not every 12 Volt TV is available with a built-in DVD player.

Identifying one of our 12 Volt TV DVD Combos is easy, just look for a TV with a DVD disk protruding from one side or the other.

Our TV product images accurately depict the DVD player left or right side placement as well as the vertical position. DVDs load parallel to the TV screen.

An external DVD player can be connected to any of our TVs.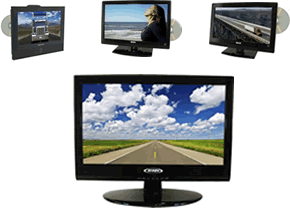 12 Volt TV Size Options
Presently at 12Volt-Travel® you will find AC/DC TV's in a range of sizes from 9-inch all the way up to the huge 32-inch TV. The largest 12 volt TV currently being produced is the 32" TV manufactured by Jensen.

TV screens should be measured diagonally from corner to corner.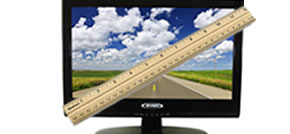 12 Volt TV Connection Options
All of our TVs from 13 to 32 inch feature quite a robust connection panel. Inputs typically include coax, audio/video, HDMI and VGA for use as a PC monitor. Some include component video input or additional HDMI inputs. Some may even include other input options like SD card or USB jump-drive.

TV output options often include audio by RCA type audio cable and audio by 3.5mm cable. Some TVs will also include coaxial video output (only functions when DVD playback is active).

The connection panel layout differs by manufacturer as well as by TV screen size.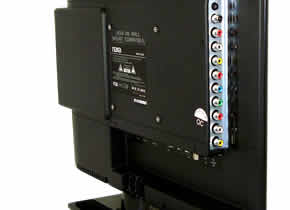 12 Volt TV Wall Mounting
All of our Televisions from 13inch to 32inch can be wall mounted using a variety of different TV wall mounts. Our TVs all use some standard size VESA hole pattern. All of our TV wall mounts cover a wide range of VESA hole patterns. That's not to say that all of our mounts will fit all of our TVs, but, many will fit most of our TVs.

TV Wall Mounts typically consist of two interlocking parts. First is the wall anchor part of the mounting system. This is securely fastened to the wall using included or customer supplied hardware. The second part is the TV adapter plate. This plate is usually configurable to work with several VESA hole patterns.

There are four (4) screws centered on the back of the TV. Simply remove these screws, place a properly adjusted wall-mount TV adapter plate over the four holes and re-insert the four screws.

The adapter plate now installed on the TV needs to be attached to the wall mount wall anchor. These normally fit together easily and don't put up much of a struggle. Once together some require a retaining screw to keep the two wall mount halves from separating, while others will automatically lock in place using a spring lock mechanism.
12 Volt High-Definition TV
All of our 12 Volt Televisions are HD capable. This means that if you can provide an HD signal then the picture shown will be in high definition.

An HD signal is provided either by an HDMI cable connected to another device or by tuning to a channel being broadcast in high definition.
12 Volt LCD LED TV
Liquid Crystal Display screens use very little power, are thin and light-weight. When backlit with LEDs the LCD screen will produce a crisp clear picture that's evenly lit and is viewable from wide angles.

All 12 volt televisions featured here at 12Volt-Travel® are built using LED Backlight technology.

Using LED's to illuminate an LCD TV screen produces a more evenly lit screen which helps create a more brilliant picture.
12 Volt TV Power Options and Consumption
All of our 12volt televisions can be powered using the 12V DC TV power cord or with the 110V AC power adapter. When powering TVs from 13" - 24" the TV will draw roughly 3amps (36watts) of DC power. Our largest 12-Volt TV is 32" and draws just 7amps.

AC/DC TVs by Jensen include only the "hard wire" 12 volt power cord. The cigarette lighter plug and home 110V plugs are both available as add-ons.

All other 12V TV brands featured at 12Volt-Travel include both power cords, the 12 volt lighter socket cord and the 110V home AC power adapter cord.
With Our 12 Volt TVs

Remote Control
A full function remote control and required batteries are included with each of our televisions.

TV Mounting Base
All of our televisions include a mounting base unless otherwise specified.

Owners Manual
All of our televisions ship with an owners manual. Many of our televisions also have a digital manual available for download.
As for power...

Jensen 12V TV Power Cord
All of our Jensen TVs include only a "hard-wire" 12-volt power cord which must be wired directly to a 12 volt battery or (more commonly) wired to a fused power location in your vehicle. Jensen lighter socket power cords and home 110v power cords may be purchased separately.
All other 12Volt TV Brands (non-Jensen TVs)

12-Volt Outlet TV Power Cord
This power cord is included with all of our non-Jensen brand TV's and plugs directly into the 12-volt lighter socket in your vehicle.

12-Volt TV 110V Power Cord
This power cord is included with all of our non-Jensen brand TV's. It plugs into a 110V AC power outlet and produces 12-volt DC power.
Now is the time to buy a new 12Volt TV.
Your
Satisfaction is Guaranteed
with
12Volt-Travel®
so you can shop with confidence and
Enjoy Our amazing deals on the best TV's for Trucks and RV's.
Browse our
12Volt Televisions
Now!
Customer Service and Sales 1-888-412-8058
Call Monday-Friday 9AM-5PM est.