12Volt-Travel
There is no better gift to give when you don't know what your friend or loved one needs. Let them decide with a Gift Certificate that they can use...
Rated 5/5

This Three Position 6-Terminal Toggle Switch is available in momentary or constant and also with blade or screw terminals. The momentary version will...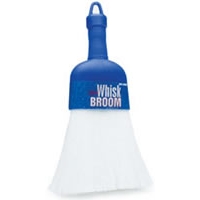 Durable Plastic Handle with Nylon Bristles and Hang Hook
Rated 5/5

Offering a 25dB gain over conventional antennas. Perfect for areas far from the beaten path. Great for RVers, Truckers and Campers who never know where they will end up while traveling.
• Direct hook-up or lighter socket powered
• Easily installed and put to use
• 50-890 MHz signal boost
• VHF & FM Signal compatible
Often times it's necessary to keep an eye on the available volts in an RV battery bank which often means using a hand-held meter at the battery...
Rated 4.5/5

Keep an eye on battery voltage. Plugs into the lighter socket in your car, truck or RV. Don't get stuck with a dead battery, know your voltage.
• Bright Digital 3-digit Readout
• DC Voltage Range: 8V-30V
• Small, Lightweight
• Fused Tip