Fire Extinguisher - Emergency Warning
Don't be caught off guard when an emergency strikes. Be prepared for vehicle fires and other road side emergencies. Many commercial vehicles like school buses and semi trucks are required to have reflective triangles and class B and C fire extinguishers. You should have them too.
6-Pack Emergency Flare Kit
The Original Highway Flare Kit Protect You and Your Family During a Roadside Emergency! Six 30-Minute Highway Flares Bright Orange Safety Vest for...
Emergency Warning Triangle 3-Pack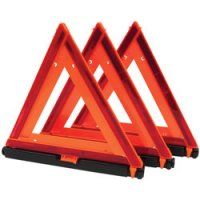 These reflective warning triangles are used by truck and motorhome drivers to increase safety when broke down or loading in high traffic areas. The...
Customer Service and Sales 1-888-412-8058
Call Monday-Saturday 9AM-6PM est.