Audio Video Cables
Low signal loss cable for recording or for those who want high quality audio/video cables. Great for those running larger format HDTV's and looking to get the most out of their investment.
• 12' Length
• Can be used as high quality dubbing cable
• Gold plated connection surface

HDMI cable for use with HDTV's for the best audio and video quality available. Great for use with your HD DVD player or HD Satellite system
• Gold plated connections
• Supports Audio and Video signals
• Supports 720p,1080i,1080p formats
• 6' Length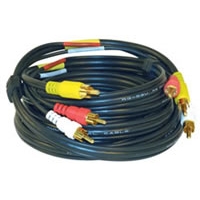 6 Foot component Audio/Video cables with extra thick shielding to improve signal to noise ratio. Great for those with entertainment systems that are close together.
• Gold plated connection surface
• Extra thick stress reliefs
• 6' Length