Noise Suppressor Isolators
Ground Loop Isolator - RCA Filter
The SNI-1 Eliminates Ground Loop Noise Between Head Unit and Amplifier using RCA style audio connectors. The two brown wires are optional ground...
Only: $14.99
Sale: $12.59
Ground Loop Isolator with 3.5mm Plug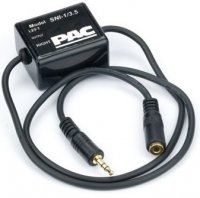 Eliminates ground loop noise between the MP3 player or other audio source and radio (head unit). For use with portable devices that have a 3.5 mm...
Only: $15.03
Sale: $12.63
Customer Service and Sales 1-888-412-8058
Call Monday-Saturday 9AM-6PM est.